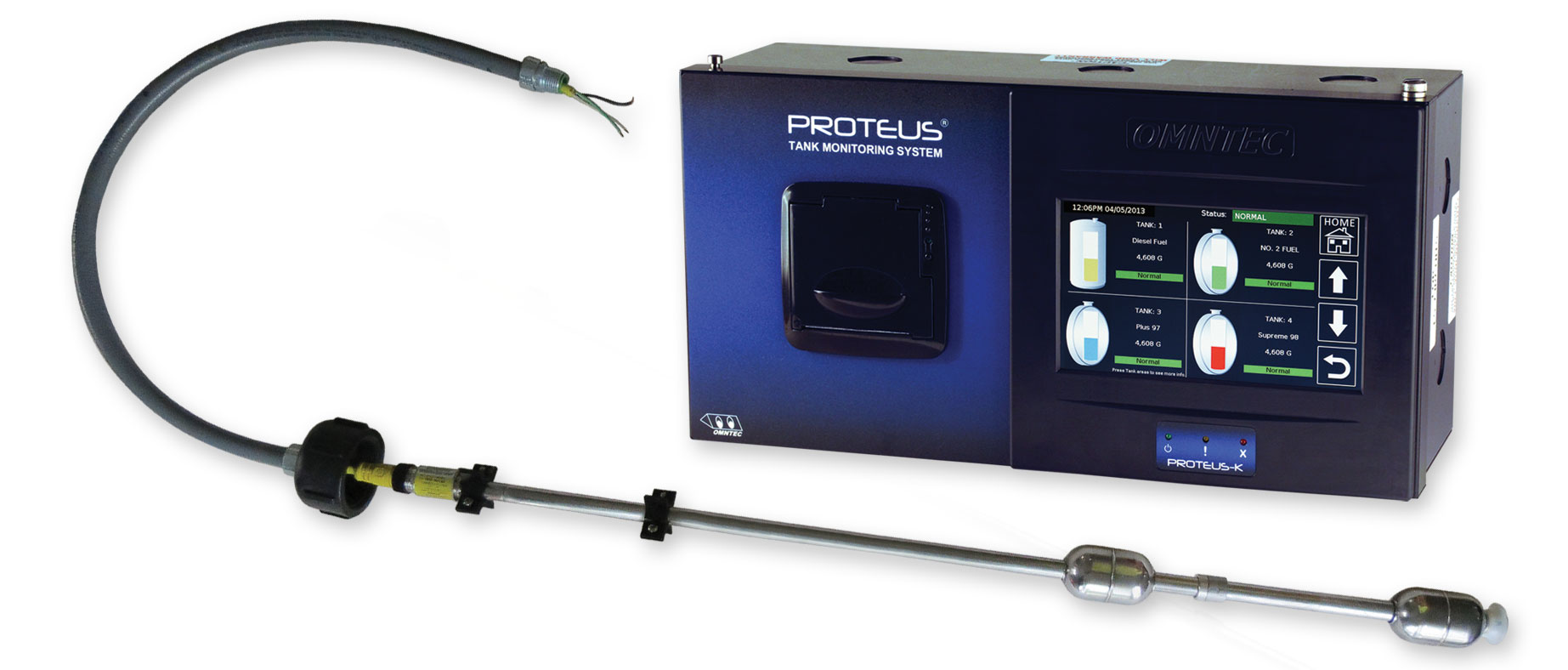 Automated Tank Gauging and Leak Detection
OMNTEC PROTEUS Series simultaneously monitors product levels, water levels, temperature, leaks, and much more – making it ideal for a variety of above ground and below ground gauging, sensing, and leak detection applications. Providing advanced technology, versatility, scalability, and enhanced features, the PROTEUS does not require sensor or probe input modules, bringing ease to ordering, installation, and use. A built-in microprocessor gives each sensor the ability to identify itself and its location and provides remote testing capability. Bright Eye sensors distinguish the fuel from water or simply detect the presence of liquid.
Remote Tank Monitoring
Omntec Tank Level Sensors are compatible with Ward Fuel Control Terminals and Fuel View software for seamless remote tank monitoring above or below ground hard to reach locations. Multiple configurations are available for communication, offering both economical and advanced solutions.
PROTEUS AST Kit Packages  The PROTEUS-K controller with inventory only probes, stainless steel floats, and AST Cap Assembly Kit to offer an economical solution for monitoring above-ground storage tanks. See Product Sheet for more details and specifications.
PROTEUS K Series has a built-in web server, is compatible with OMNTEC PC remote tank inventory monitoring, has up to eight additional dry contact relays, and flash-based non‐volatile memory for program storage. See Product Sheet for more details and specifications.
PROTEUS B Series offers limited features for an economical low-cost solution to gauging, leak detection, and meeting compliance requirements. See Product Sheet for more details and specifications.
OMNTEC distinguishes itself from its competition with the adaptability and reliability of cost-effective products with rugged designs built for durability.
Accepts up to 4 or 8 magnetostrictive probes
Accepts up to 16 Bright Eye sensors
Built-in web server (Series K)
Flash-based non‐volatile memory for program storage (Series K)
Lower cost value (Series B)
Scaleable
| | |
| --- | --- |
| Electrical Input | 100‐240 VAC +/‐ 10% 50/60 Hz 60 |
| Voltage to Sensors | 12 VDC |
| Voltage to Probes | 28 VDC |
| Relay Outputs | 120 VAC @ 0.6 amp resistive 3 SPST Failsafe |
| Low‐voltage Outputs | 12 VDC @ 150 mA |
| Operating Temperature | 20 to 140° F (‐7° to 60° C) |
| Weight | 20 lbs (9 kg) |
| Dimensions | 7.73 x 15.21 x 5.53 inches (H x W x D) |
| Audio Visual Controls | |
| Display | 7‐inch color graphic display touch screen |
| Audible alarm | 85 dB piezoelectric horn |
| System status | 3 LED's (OK, warning, alarm) |
| Ratings | UL and CUL |