Tank Gauging Solution Overview
Tank Level Sensors Overview
Click a product component in the illustration for description. For product details see the Product Sheets below.
Omntec Proteus Series of Tank Gauge Consoles
Omntec Proteus tank  level and gauging sensors to meet any requirement and budget and keep your product in compliance. Fully integrates with Ward FCT and Fuel View software. See the Product Sheets below for more information.
Omntec Proteus Kit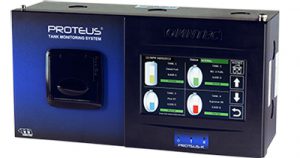 The Proteus AST Kit consists of the Proteus K console, inventory only probes, stainless steel floats, and an AST cap assembly kit to offer an economical solution for monitoring above ground storage tanks.
Ward IoT Fuel Control Terminal
The Fuel Control Terminal stores and transmits transaction data to the Fuel View database. Pictured is the new Ward FCT IoT (Internet of Things), which provides enhanced security, real time pump status and remote authorization ability and more.
Ward Fuel View Software
Ward Fuel View Software centrally controls, stores, manages and reports the site's activity and status from storage tanks to vehicle fuel tank for fuel, vehicles, employees, and other assets. Fuel View is available as a SaaS or locally hosted.
Tank Gauging Solutions
Ward Fuel View software integrates with almost any software to monitor product levels, water levels, temperature, leaks, and much more.  The ideal solution for simultaneously managing remote hard to reach tanks, above ground and below ground. Fuel View is compatible with gauging, sensing, and leak detection applications and provides tank level status and alarms, liquid sensor status and alarms, leak test results,
Veiw the Omntec Proteus series of tank gauging systems.
Contact sales for more information.
Analyze Everything
Fuel View provides a comprehensive selection of tank level analytic screens and detailed reports for:
Tank level status
Low level alerts
Reorder alerts
Leak test results
Liquid sensor
Audit trails
Temperature